Take a closer Look
It is this time of the year again!
Quoting a famous movie, they say, "same procedure as every year!"
Welcome to a look behind the scenes of my latest photo calendar, which is now available to pre-order.
For many of us, flying has become ordinary. Fortunately, it still inspires many of us and creates lots of emotions. May it be the excitement to travel to a far distant place, or the joy to soar above the clouds and watch the world pass by underneath, or last but not least, the thrill it creates if the airways are a bit bumpier than expected. What does flying mean to you?
My daily life in the flight deck takes me above the clouds and across the globe. One of my constant travel companions is my camera. I have carefully curated some of my favorite views and would like to share the most extraordinary and awe-inspiring moments in this calendar with you. I am glad to have you join me on the flight deck or the airport's tarmac and experience the beauty of flight from a pilot's perspective. For more insights into my daily adventures above the clouds, make sure to follow my Instagram account «@sky_trotter» and read my blog.
I want to take this opportunity to thank all involved in making this project possible. A special appreciation goes out to my fellow pilots, internal departments for their support and permission to use the images. All pictures were taken during the non-sterile phase, on the ground, or as an observer in the third seat.
I am honored that my creative work was selected as a winner at the International Photography Awards 2018.
Because we care
I am very proud to inform you that you support a cause for good by purchasing this photo calendar. For every copy sold, I donate CHF 5.- to the children's foundation of the SWISS employees (Stiftung Kinderhilfe des SWISS Personals). Visit their website for further information. Thank you very much for your support.
This project is produced entirely in Switzerland and promotes an effort for the global climate issue. All arising CO2 emissions are compensated by donations towards projects of MyClimate, making this project carbon neutral. From wood processing to the finished print, the production takes place per FSC-standards. Therefore, the used paper originates from environmentally-friendly and socially acceptable managed forests.
Let's take a closer look.
Read the picture description down below. These are the pictures of my 2020 photo calendar with some very different insights into my daily life as an airline pilot. Head over to my shop to get your copy today. Click here to get to the store>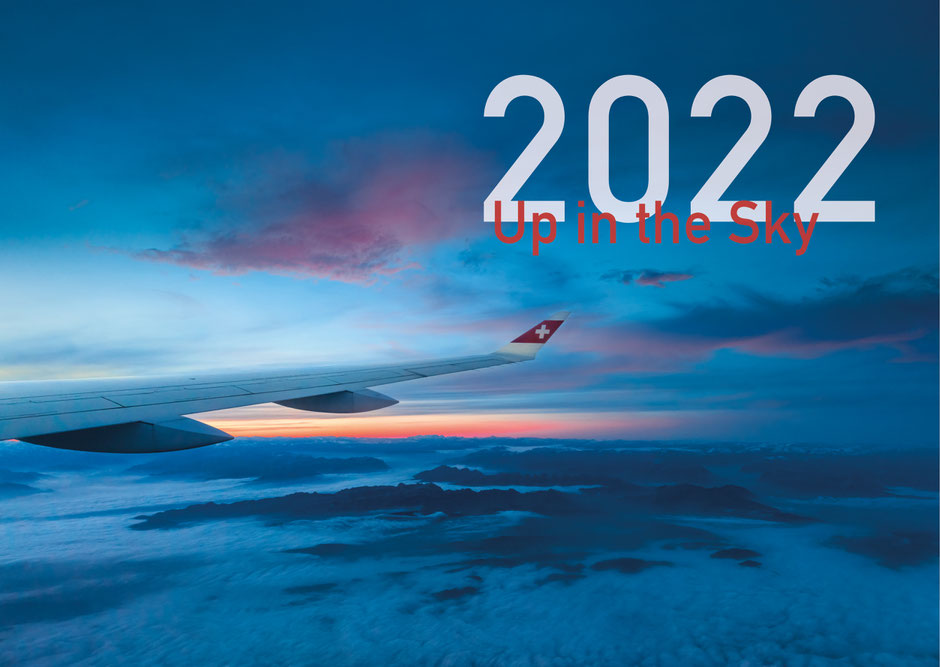 Cover
Colorful Sunrise
An early morning departure from Zurich takes us above the sea of fog and along the Swiss Alps. In a few moments, the first warm rays of the rising sun will illuminate the magnificent peaks and turn the faint morning sky into a colorful spectacle as we are passing by mount Säntis with the Bernina mountain range adorning the horizon.
January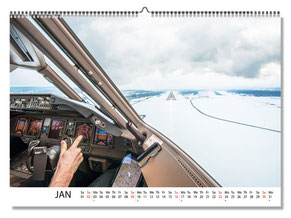 Winter is Here

We are seconds from touching down on runway 14 at Zurich Airport after a 10-hour transatlantic journey home from Los Angeles. A thick layer of powder from the recent snowstorm has covered Switzerland and is keeping the ground crew busy. They have been tirelessly clearing the runways, taxiways, and aprons to keep us flying.
February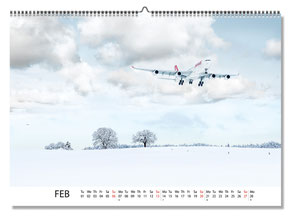 Winter Serenity

A picture-perfect winter wonderland welcomes this Airbus 340 as it is precisely established on final approach on the longest runway at Zurich Airport. The 3500-meter long runway 16 is generally used for long-haul departures. However, due to the recent snowfall, the landing runways are alternated in order to allow them to be cleared of the snow contamination.
March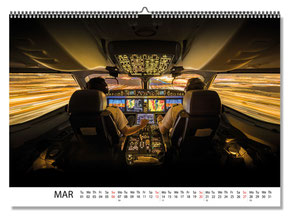 Bonsoir Genève

"Geneva Tower Bonsoir, Swiss Two-Two-Zero-One, established ILS04", we are about to receive our landing clearance as we are passing over the glistening lights of one of Geneva's industrial zone after the flight crew after a 3-hour flight from Marrakech. The airport sits on the border with France and is well known for its scenic views of the Jura and Mont Blanc.
April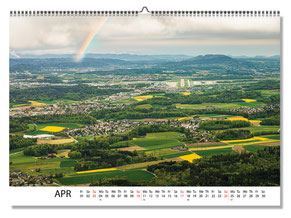 Spring Landing

After the winter season, nature is clearly regaining its colors. The vantage point from the cockpit gives us a prime view on one of nature's spectacles: a bright rainbow lighting up the sky over Zurich's suburbs. We are perfectly aligned to runway 28 which is usually used for the evening arrivals and whenever strong westerly winds prevail and offers a steeper approach due to the underlying terrain.
May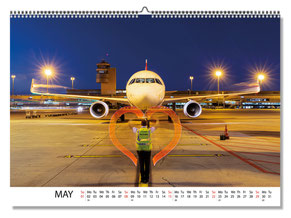 Simplicity is Plane Love

Pilots usually park with the guidance of an electronic parking system. Whenever it is unavailable, the aircraft gets marshaled into its parking position. The crew of this Airbus 320 at Zurich Airport during the late blue hour is welcomed with a bit of ground crew love, ending their 1500km long journey home from Stockholm Arlanda.
June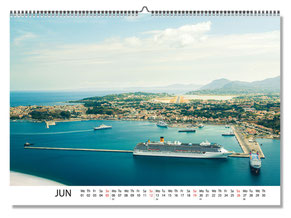 The approach into Corfu is one to behold. After landing on runway 17, pilots have to turn around and backtrack to reach the terminal, as there is no taxiway running its entire length. After disembarking from the aircraft, one is met by the beautiful scent of the Ionian Islands and greeted by the famous Mediterranean hospitality on this beautiful Greek island.
July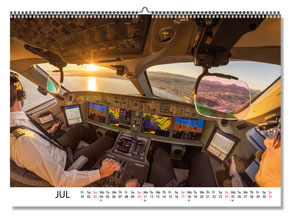 Into the Sunset

A short hop across the Alps takes us to Nice Côte d'Azur Airport. While being scenically located directly on the waterfront of the French Riviera, the approach is not only stunning but challenging too. Whenever the weather permits, aircraft are flown above water before making one final turn to align with the runway to minimize noise over the densely populated coastline.
August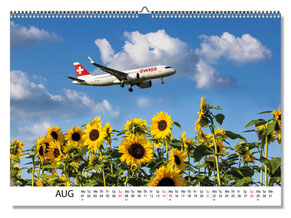 Great for the Environment

After a two-hour flight from Lisbon, Portugal, LX2083 is about to land at Zurich Airport. The Airbus A320neo is not only one of the most popular airliners, but its latest version of engines also makes it one of the most efficient ones. Thanks to its improved aerodynamics and new propulsion technology, it is much quieter than comparable aircraft of the previous generation and emits nearly 15% less CO2.
September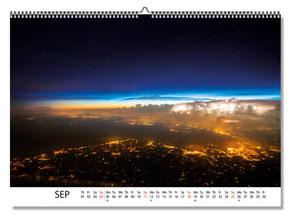 Day's End over the Horizon

The sun has just set as we are cruising along the Adriatic coastline. After a hot summer's day, an area of intense thunderstorms spreads across northern Italy.  Circumnavigating around these so-called squall lines is one of this season's daily challenges but does reward the eye with a spectacle to behold.
October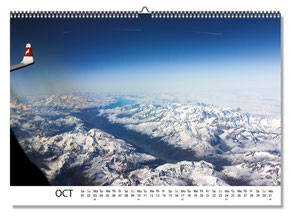 First Snow of the Season

As we descend into Zurich airport, we get treated to a spectacular view of the freshly fallen snow covering the Swiss Alps from a passing cold front. The first snow of the has covered all the summits visible from our aircraft: The Matterhorn, Mont-Blanc as well as the famous Bernese peaks of Eiger, Mönch, and Jungfrau.
November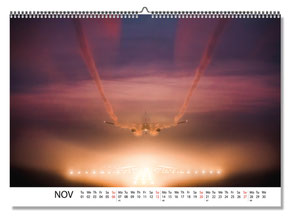 Foggy Morning

A Boing 777 cuts through the ground fog at Zurich Airport, creating some impressive vapour trails. Most of the time, pilots manually fly the landing, except in low-visibility conditions like these. Thanks to sophisticated autopilots, most modern airliners can land in as little as 75 meters of visibility. Needless to say that this relies on technically advanced systems onboard and on the ground in addition to extensive crew training.
December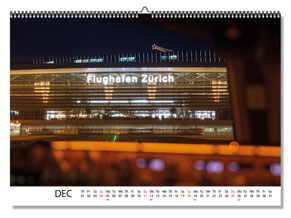 Christmas Homecoming

Our passion is to fly our guests around the globe to make them be with their loved ones. As flight crews, we are out and about all 365 days of the year. This sometimes means that we are up in the sky even during Christmas and far away from our loved ones, making us cherish the moments we have at home even more.
Get your copy today

Did you enjoy these impressions from my daily life as an airline pilot? Head over to my shop to get your copy today.