Take a closer Look
Excitement fills the air as we prepare for the pre-order launch of my latest photo calendar.
While flying has become commonplace for many, it still evokes a range of emotions, from the thrill of exploring distant lands to the serenity of soaring above the clouds. For me, flying is an everyday adventure, a journey that takes me above the clouds and across the globe.
Join me on the flight deck or the airport's tarmac as I share captivating moments captured through my camera lens. It is with great honor that I share my creative work, recognized as a winner at the International Photography Awards 2018. For the upcoming year I have carefully curated a collection of images inviting you to experience the beauty of flight from a pilot's perspective.
I extend my heartfelt gratitude to everyone who made this project possible, especially my fellow pilots and internal departments for their unwavering support and permission to use the images. All pictures were taken during the non-sterile phase, on the ground, or as an observer in the third seat. For more insights into my daily adventures above the clouds, follow my Instagram account @sky_trotter and read my blog.
Because we care
Your purchase of this photo calendar goes beyond simply acquiring beautiful imagery; it signifies your active support for a meaningful cause. For every calendar sold, CHF 5 will be donated to the children's foundation of the SWISS employees (Stiftung Kinderhilfe des SWISS Personals) to provide assistance to kids in need around the world. Learn more on their website.
This project is proudly produced entirely in Switzerland in close collaboration with local businesses. All arising CO2 emissions are offset through donations to ClimatePartner, funding global climate action and ensuring carbon neutrality. Production adheres to FSC standards from wood processing to the final print, guaranteeing that the paper originates from environmentally and socially responsible forestry practices.
Thank you for joining me in making a positive impact and supporting me in my commitment to social and environmental responsibility.
Let's take a closer look.
Embark on a captivating journey through my 2023 photo calendar, offering unique glimpses into my daily life as an airline pilot. Each image captures a moment of beauty and wonder, from breathtaking aerial vistas to intimate cockpit scenes. Discover the world from a pilot's perspective and let these images transport you to the heart of aviation.
Secure your copy today and embark on this extraordinary visual adventure. Visit my shop to order your calendar now. Click here to get to get your copy>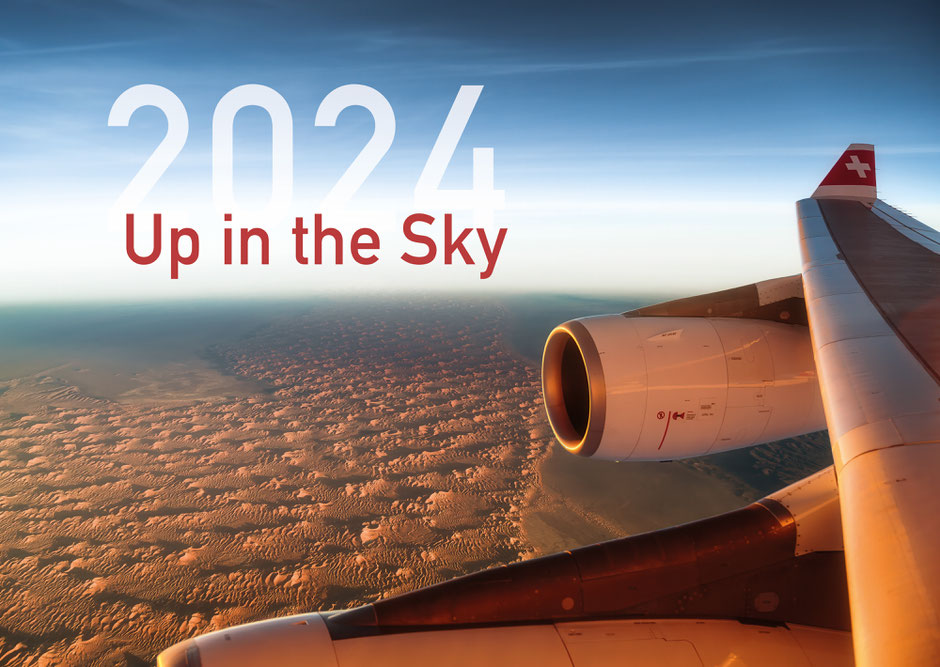 Cover
Sailing above the Sand

On our way home from Johannesburg, we're witnessing a mesmerizing sunrise as the first rays of the new day illuminate the vast expanse of the Sahara Desert. Despite its stunning beauty, we traverse a desolate and inhospitable environment. We depend on technological marvels, such as GPS navigation and long-range communication systems, to ensure safe passage through this remote region of the world.
January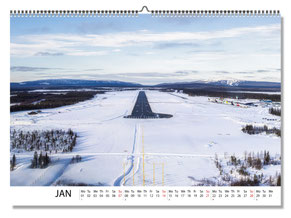 Landing in Winter Wonderland

We are perfectly aligned for a touchdown at Kittilä's runway 34, the gateway to Finnish Lapland. Situated beyond the Arctic Circle, this 2500m long runway is often covered in snow. The wintery condition presents an additional challenge to the flight crews, necessitating special procedures.
February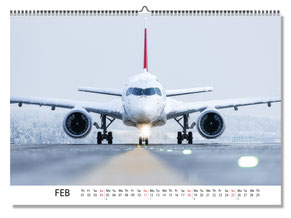 Snowed-In
A passing winter storm has blanketed Zurich Airport in heavy snow, resulting in a temporary closure. Following the diligent work of the snow removal team, it is now time to resume flights. Before this Airbus A220 can take to the skies again, the residual snow on its wings and fuselage must be removed. It is patiently waiting for its turn at the de-icing pad, a bit like a beauty makeover.
March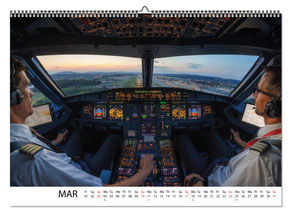 Across the Röstigraben

The captain of this Airbus A320neo will soon make a smooth landing on runway 34 at Zurich Airport after a short hop from Geneva. Despite its size, Switzerland has four official languages. During this 30-minute flight, we cross the "Röstigraben", which marks the boundary between the French and German-speaking areas of the country named after a national dish.
April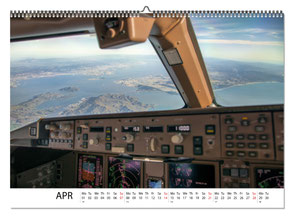 California Dreaming

After a little under 12 hours in the air, LX38 is about to arrive in San Francisco, the heart of the Golden State. During the approach, everyone on the plane's left side has a breathtaking view of the city and its iconic Golden Gate Bridge. So always choose a window seat to get the best possible inflight entertainment.
May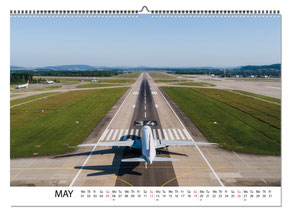 Defying Gravity

With take-off clearance granted, the Captain of LX188 throttles up the two giant GE90 engines of his Boeing 777. Roaring down runway 34 marks the beginning of their 9051km long journey to Shanghai, China. In mere moments, the 351-toned airliner will achieve the velocity needed to lift off into the clear blue skies.
June
Kalimera Santorini

Landing at the sun-kissed airport of Santorini, Greece, looks as spectacular as it is challenging. This becomes apparent as we make the final turn toward runway 33. This airport is located along the island's eastern shoreline, featuring a short and narrow runway that only offers straight-in approaches from the north. Yet, runway 33 is mainly used due to the prevailing northerly winds.
July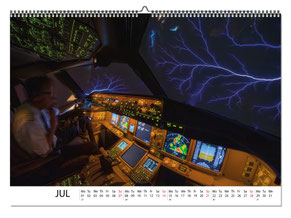 Seaside Summer Landing
Circumnavigating storm cells en route from Singapore to Zurich, we are treated to the captivating St. Elmo's Fire, a unique weather phenomenon. It is caused by the ionization of air molecules due to a strong electric field, creating a corona discharge of faint, glowing plasma. It is an eerie yet striking sight that is only visible at night and of no risk for the aircraft or its occupants.
August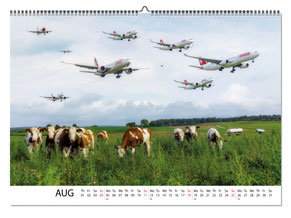 Typically Swiss

The rush hour at Zurich Airport is in full swing, keeping the air traffic controllers busy landing a plane almost every minute. Nearby, cows graze in their favorite field. Might that be the reason they look so happy? While the grass may be green, we are sure that the view of aircraft landing and taking off must be the secret to their high-quality milk.
September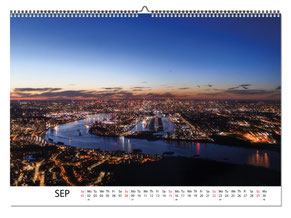 Dear London City Airport

As the name implies, LCY is located at the heart of the British metropolis and is categorized as a particularly challenging airport. Therefore, special training is required, allowing only the captain to be at controls. Not only do we face a steep approach angle of 5.5 degrees, but we also need to land on a short and narrow runway of only 30m in width and just 1508m in length.
October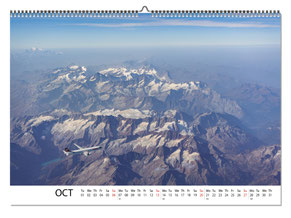 Flying above the Alps

Flying in and out of Switzerland, two aerial gateways, Zurich and Geneva airports, frequently guide us over the Swiss Alps. This becomes especially rewarding when journeying southward or eastward, providing us with awe-inspiring vistas of the majestic Swiss Alps. Today, the sight of a company Airbus A321neo compliments the view as we follow the southerly arrival route into ZRH.
November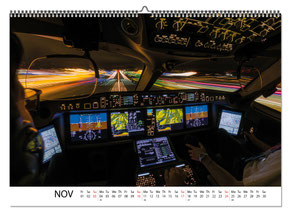 Guided by the Lights

Airbus A220 is about to touch down at Zurich Airport. Following air traffic control's initial guidance, the aircraft transitions to ground-based radio or GPS signals for precise runway alignment. As most landings are executed manually, visual cues, especially runway and approach lights, become crucial, ensuring a precise touchdown, especially during nighttime landings.
December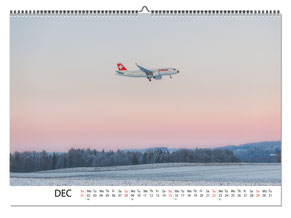 Santa's New Sleigh

In a mix of tradition and innovation, this Airbus A320neo, adorned with a vibrant red nose, takes to the skies as Santa's new Sleigh spreads Christmas cheer across Europe. Gliding effortlessly through the winter skies, delivering gifts and holiday spirit to wherever it flies. As it gracefully soars the skies, one can almost hear Santa's hearty "Ho ho ho!" echoing through the cockpit.
Get your copy today

Did you enjoy these impressions from my daily life as an airline pilot? Head over to my shop to get your copy today.