Take a closer Look
It might sound early bu: It is this time of the year again!
I have to admit, that I am quoting a famous movie where they say, "same procedure as every year!"...well here we go again:
Welcome to a look behind the scenes of my latest photo calendar, which will soon be available for pre-order.
For many of us, flying has become ordinary. Fortunately, it still inspires many of us and creates lots of emotions. May it be the excitement to travel to a far distant place, or the joy to soar above the clouds and watch the world pass by underneath, or last but not least, the thrill it creates if the airways are a bit bumpier than expected. What does flying mean to you?
My daily life in the flight deck takes me above the clouds and across the globe. One of my constant travel companions is my camera. I have carefully curated some of my favorite views and would like to share the most extraordinary and awe-inspiring moments in this calendar with you. I am glad to have you join me on the flight deck or the airport's tarmac and experience the beauty of flight from a pilot's perspective. For more insights into my daily adventures above the clouds, make sure to follow my Instagram account «@sky_trotter» and read my blog.
I want to take this opportunity to thank all involved in making this project possible. A special appreciation goes out to my fellow pilots, internal departments for their support and permission to use the images. All pictures were taken during the non-sterile phase, on the ground, or as an observer in the third seat.
I am honored that my creative work was selected as a winner at the International Photography Awards 2018.
Because we care
I am very proud to inform you that you support a cause for good by purchasing this photo calendar. For every copy sold, I donate CHF 5.- to the children's foundation of the SWISS employees (Stiftung Kinderhilfe des SWISS Personals). Visit their website for further information. Thank you very much for your support.
This project is produced entirely in Switzerland and promotes an effort for the global climate issue. All arising CO2 emissions are compensated by donations towards projects of MyClimate, making this project carbon neutral. From wood processing to the finished print, the production takes place per FSC-standards. Therefore, the used paper originates from environmentally-friendly and socially acceptable managed forests.
Let's take a closer look.
Read the picture description down below. These are the pictures of my 2023 photo calendar with some very different insights into my daily life as an airline pilot. Head over to my shop to get your copy today. Click here to get to the store>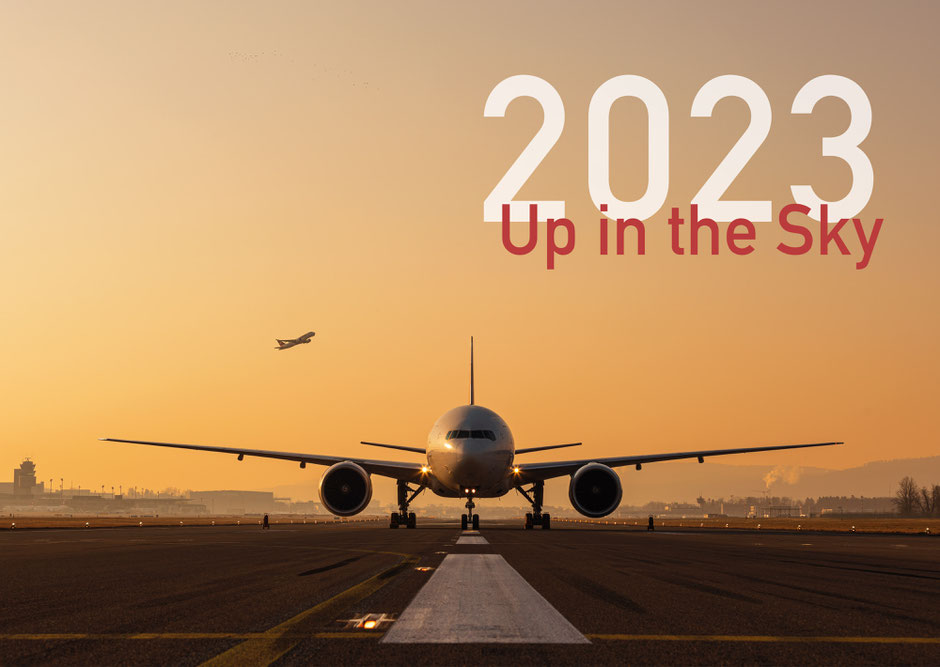 Cover
Golden Hour Roar
Certainly a particular impressive vantage point of this Boeing B777 kissed by the morning sun rays. Unlike its sibling in the background, this behemoth airliner stays firmly on the ground while undergoing a maintenance visit. The mechanics and engineers thoroughly test its systems before signing it off to go airborne again. They include a so-called high-power run-up where they throttle up the two mighty GE90 engines to gain the confidence that they are good to go too.
January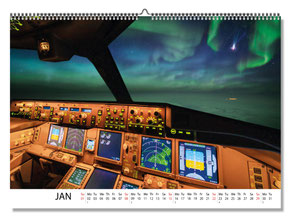 Riding the Galactic Storm
The night sky can be home to some of the most beautiful natural phenomena. This evening, the crew and passengers on board LX39 from San Francisco to Zurich are greeted by jaw-dropping Aurora Borealis. As they soar above the Canadian Arctic, a Boeing 787 bound for London overtakes them while the Northern Lights dance in the blistering cold night sky above. A unique sight that certainly illustrates the magic of flying.
February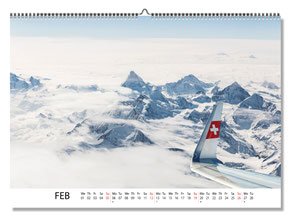 Welcome to Switzerland
On clear days we greet our passengers with stunning inflight entertainment. We get offered some spectacular sights, especially when flying in from the south as we cross the Alps. It usually includes a fabulous view of Helvetia's most iconic mountain, the Matterhorn. The backdrop of the Southern Alps complimented with the country's flag adorning this Airbus A320's sharklet gifts passengers with a memorable souvenir.
March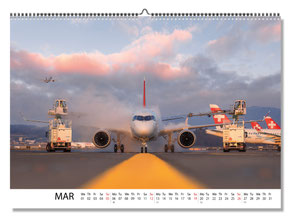 Last Days of Winter
Despite the winter season ending, the cold nights still regularly cover the airplanes with a thin layer of frost, keeping the de-icing crews busy during the early morning rush hour. Before departure, the airliners queue up for their "spa treatment" at Zurich airport. During this procedure, a perfectly orchestrated ballet of the ground handling vehicles bustles around the aircraft. A spectacle on its own for everyone onboard and any external observers, with a sole purpose: Flight safety.
April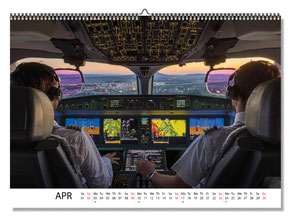 Perfectly established
After breezing through European skies, this A220 is about to touch down at Zurich Airport. While their passengers enjoy a magical sunset, the pilots perform a satellite-based approach onto runway 28. Advanced onboard technology allows them to maneuver their airliner with the utmost accuracy without needing any ground-based equipment. Thanks to this latest technology, maintenance-intensive navigation equipment at the airport are about to become a thing of the past and help reduce operating costs while keeping the highest safety standards.
May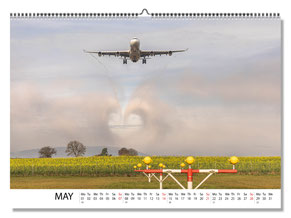 Love is in the Air
The blossoming fields offer a colorful welcome as LX9 is about to land at Zurich Airport. Some eight hours ago, LX9 lifted off from Chicago O'Hare, one of the busiest airports in the world. On its final approach, this Airbus A340 cuts through the last patch of mist above a flowery field and draws a short-lasting spectacle into the morning sky. The otherwise invisible wakes are caused by the difference in pressure around the wings. They form two counter-rotating vortices trailing behind the aircraft.
June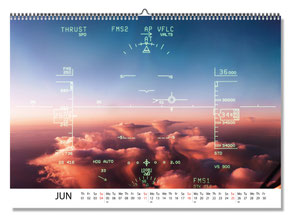 Mesmerizing Sunset
The HUD or Head Up Display is a great way to keep eyes on what is happening outside while monitoring the aircraft's parameters. The crew of this A220 aims to pass over a cluster of dissipating thunderstorm clouds ahead by climbing to 36'000 ft. These beautiful clouds are characterized by a trail of precipitation falling from their underside but evaporating before reaching the earth's surface. Together with a colorful sunset, they create a mesmerizing scene en route to Oslo, Norway.
July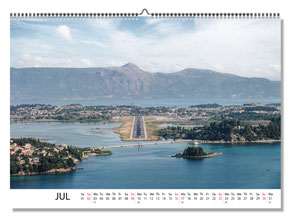 Seaside Summer Landing
We are on a spectacular approach to one of Greece's most popular holiday destinations: Corfu. An island in the Ionian Sea known for its cosmopolitan Old Town, stunning sandy beaches, and beautiful landscapes. In a few moments, we will be touching down on runway 34, and our passengers will enjoy the warm Mediterranean temperatures as they prepare to set their watches to holiday time.
August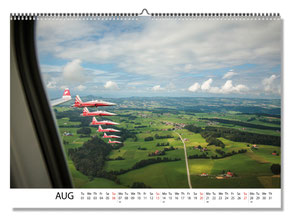 Happy Birthday, Switzerland
The magic of flight is even greater when shared. During the 2014 Payerne Air14 display, this A330 is soaring above the rolling green hills of Western Switzerland as it is about to greet the crowds with a stunning set of low-altitude maneuvers. And the pilots of this long-haul airliner brought some friends along. The six F-5 Tiger fighter aircraft of the famous Patrouille Suisse a perfectly lined-up and ready to create a unique, Swiss-made spectacle.
September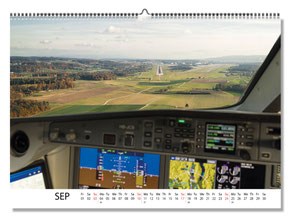 Greeted by Greenery
As this A220 is on its final approach to Zurich Airport, the dawning of autumn is starting to be visible to the flight crew. Amongst the green forests, a few trees begin to adorn their warm autumn-like colors and give a taste of what the landscape will turn into within a few weeks. Such is the beauty of such an office view: witnessing the constant changing of the seasons and weather from above.
October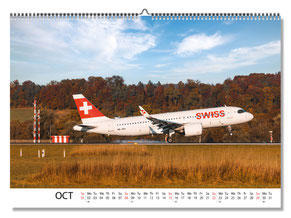 Colorful Touch Down
Autumn is well and truly here as the pilots of this A320Neo perform a perfect landing right on the runway touchdown markings during the most colorful of seasons. The patchwork-colored forests adjacent to Zurich's runway 14 make for a colorful backdrop for the landing of this brand new Airbus. One can recognize it thanks to its larger engines, sharklets, and black contour-painted cockpit.
November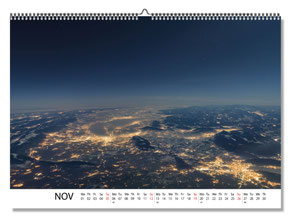 Winter is coming
Flying home from southwestern Europe, we are greeted by the beautiful night-lit landscape of eastern Switzerland and neighboring France. The rays of tonight's full moon beacon down on Lake Leman and the first patches of snow on the Alps and Jura mountaintops. Straight ahead, the bright city lights of Geneva mark the west tip of Switzerland. Home to the country's second-largest airport and well-known for being very international by hosting countless international missions, banks, and non-governmental organizations.
December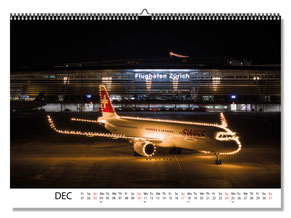 Merry Christmas, Aviators!
Nothing says Christmas more than coming together with loved ones, Christmas trees, presents, and Glühwein. Well, almost.
In the middle of a winter's night, great teamwork, Swiss precision, and 417 light bulbs made a fantasy come true on the tarmac at Zurich airport. With the magic of light and an Airbus A321, they undoubtedly found an elegant yet unique way to wish all crew, passengers, and aviation enthusiasts happy end-of-year celebrations.
Get your copy today

Did you enjoy these impressions from my daily life as an airline pilot? Head over to my shop to get your copy today.