Take a closer Look
Welcome on board
As an airline pilot, I get to meet a great deal of people, explore cities, and landscapes around the world. One of my constant travel companions is my camera. These photographs in this calendar were taken during my flights this past year. In this manner, I can to invite you to take a seat in the cockpit and experience the world from a pilot's perspective.
For more insights into my daily adventures above the clouds, make sure to follow my Instagram account «@sky_trotter» and read my blog www.beyondclouds.ch
I would like to take this opportunity to thank all involved in making this project possible. A special appreciation goes out to my fellow pilots, internal departments for their support, and permission to use the images. All pictures were either taken during the non-sterile phase of the flight, on the ground, or as an observer in the third seat.
It's an honour that my creative work was selected among the winners at the International Photography Awards 2018.
Because we care
I am very proud to inform you, that by purchasing this photo calendar you are supporting a cause for good. For every copy sold, I donate CHF 5.- to the children foundation of the SWISS employees (Stiftung Kinderhilfe des SWISS Personals). Visit swiss-kinderstiftung.ch for further information. Thank you very much for your support.
This project is produced entirely in Switzerland and promotes an effort for the global climate issue. To be carbon-neutral, all arising CO2 emissions are compensated by donations towards projects of MyClimate. From wood processing to the finished print, the production takes place in accordance with FSC-standards. Therefore, the used paper originates from environmentally-friendly and socially acceptable managed forests.
Lets take a closer look
Read the picture description down below. These are the pictures of my 2020 photo calendar with some very different insights into my daily life as an airline pilot. Head over to my shop to get your copy today. Click here to get to the store>
Cover
Transatlantic Twilight

A new day dawns on the horizon as we are flying east along the busy North Atlantic Track System. The sky ahead of us is about to display the colorful spectacle as the night slowly dissipates and the sun rises.
January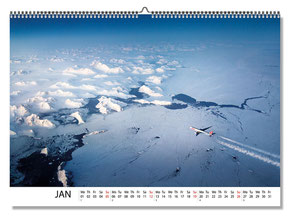 Otherworldly

We are reaching the coast of Eastern Greenland where the frozen Atlantic Ocean meets the rocky, snow-covered mountains of the Arctic. The surreal landscape spreads as far as the eye can see and we have to remind ourselves that we are passing over one of the most remote and unforgiving sceneries on earth. We are glad to have LX38 bound for San Francisco as our wingmen.
February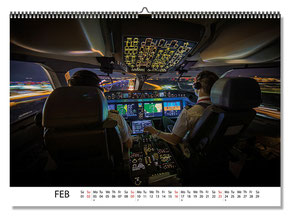 Night Landing

A short evening flight takes the crew of this Airbus A220 to the busy hub of Frankfurt International Airport (EDDF). All checklists have been completed and the landing clearance has been received. They are nicely established on the final approach and in a few moments they will land one of the most modern airliners on runway 25R.
March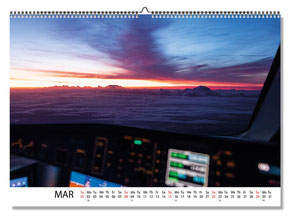 Into a New Day

We have departed Geneva Airport at night with thick fog. A few minutes later mother nature shows all her glory as we are climbing into the new day. The first rays of a serene morning are casting a warm light across the stunning landscape to our left as we are passing by Mont Blanc, Matterhorn and other tall peaks of the Alps.
April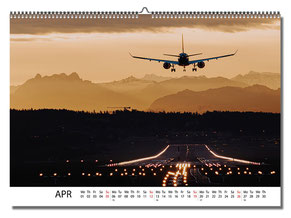 Alpen Glow

On days of good visibility, the impressive Swiss Alps provide a scenic background at Zurich Airport. While the first light enfolds the Alps with their warm glow, this Airbus A220 is on final approach to runway 14. The airport springs into life connecting the gateway of Switzerland with its 185 destinations in 66 countries around the world.
May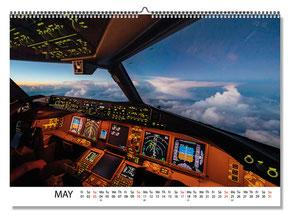 Sunrise Atlantico

A long night flight is taking us across the Southern Atlantic Ocean to the Brazilian Metropolis of Sao Paolo. Sunrises and sunsets around the equator are among the most beautiful. Mother nature is putting on an impressive and colorful show, as we are heading southwest circumnavigating some dissipating thunderstorm cells along the coast line.
June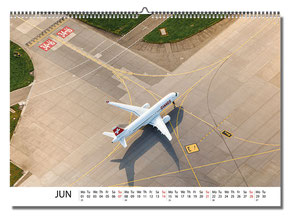 Finding our Way

Many people think that navigating in-flight is more challenging, than finding our way on the ground. However, getting from the runway to our gate takes us through countless taxiways, while paying attention to busy ground traffic. This can be more tricky than finding our way up in the sky, especially when experiencing reduced visibility or intense precipitation.
July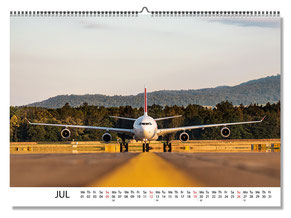 Coming Home

The warm sun rays of a serene morning are welcoming this Airbus A340 back home after flying through the night. Its journey started twelve hours ago when the four-engine aircraft departed from Johannesburg, South Africa. There are only a few meters left and arriving at the gate also marks the end of a great career of the Captain, who will retire after this flight.
August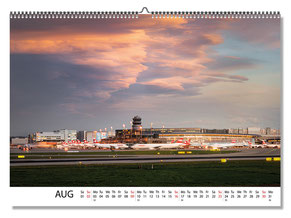 Stormy Rushhour

The evening rush hour is in full swing as an impressive thunderstorm is building up to the east of Zurich Airport. A common sight after a hot summer's day in Switzerland. Soon, the flights in and out of our home base will be busy circumnavigating the impressive convective weather as they journey to all corners of Europe.
September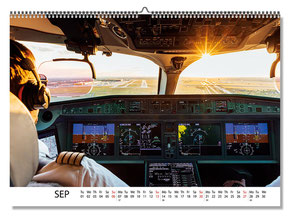 Sunset Landing

Despite having all the support from the autopilot, the majority of the landings are performed manually by the pilots. It requires great teamwork, a fully-focused concentration and a great set of skills to precisely maneuver the airplane on to the runway and to crown the flight with a great landing. This crew of an Airbus A220 is about to land on runway 26L at Leipzig Airport during the golden hour.
October
Not much to see

Thanks to sophisticated autopilots most modern airliners can land in as little as 75 meters of visibility. This is especially impressive considering that an airplane is flying at around 140kts or 260km/h during a landing thus covering about 70 meters every second. This not only calls for impeccable systems onboard and on the ground, but also for extensive and flawless training of the crews.
November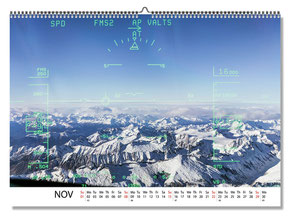 Winter Wonderland

A scenic flight takes us across Switzerland and the freshly powdered peaks of the Alps. The pilots of the Airbus A220 get treated with the latest technology and the Head-Up Display (HUD) displays, all relevant flight parameters and autopilot modes within their field of view while they are keeping a good lookout.
December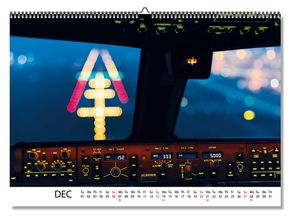 A Pilot's Christmas Tree

Airline crews are out and about on all of the 365 days of the year. Sometimes we spend time up in the sky, even on Christmas, away from our loved ones. That's why we have our own little Christmas tree, shaped by the approach and runway lights as we are closing-in to land.
Get your copy today

Did you enjoy these impressions from my daily life as an airline pilot? Head over to my shop to get your copy today.