Take a closer Look
Welcome on board
As an airline pilot, I get to meet a great deal of people, explore cities, and landscapes around the world. One of my constant travel companions is my camera. These photographs in this calendar were taken during my flights this past year. In this manner, I can to invite you to take a seat in the cockpit and experience the world from a pilot's perspective.
For more insights into my daily adventures above the clouds, make sure to follow my Instagram account «@sky_trotter» and read my blog www.beyondclouds.ch
I would like to take this opportunity to thank all involved in making this project possible. A special appreciation goes out to my fellow pilots, internal departments for their support, and permission to use the images. All pictures were either taken during the non-sterile phase of the flight, on the ground, or as an observer in the third seat.
It's an honour that my creative work was selected among the winners at the International Photography Awards 2018.
Because we care
I am very proud to inform you, that by purchasing this photo calendar you are supporting a cause for good. For every copy sold, I donate CHF 5.- to the children foundation of the SWISS employees (Stiftung Kinderhilfe des SWISS Personals). Visit www.swiss-kinderstiftung.ch for further information. Thank you very much for your support.
This project is produced entirely in Switzerland and promotes an effort for the global climate issue. To be carbon-neutral, all arising CO2 emissions are compensated by donations towards projects of MyClimate. From wood processing to the finished print, the production takes place in accordance with FSC-standards. Therefore, the used paper originates from environmentally-friendly and socially acceptable managed forests.
Lets take a closer look
Read the picture description down below. These are the pictures of my 2019 photo calendar with some very different insights into my daily life as an airline pilot. Head over to my shop to get your copy today. Click here to get to the store>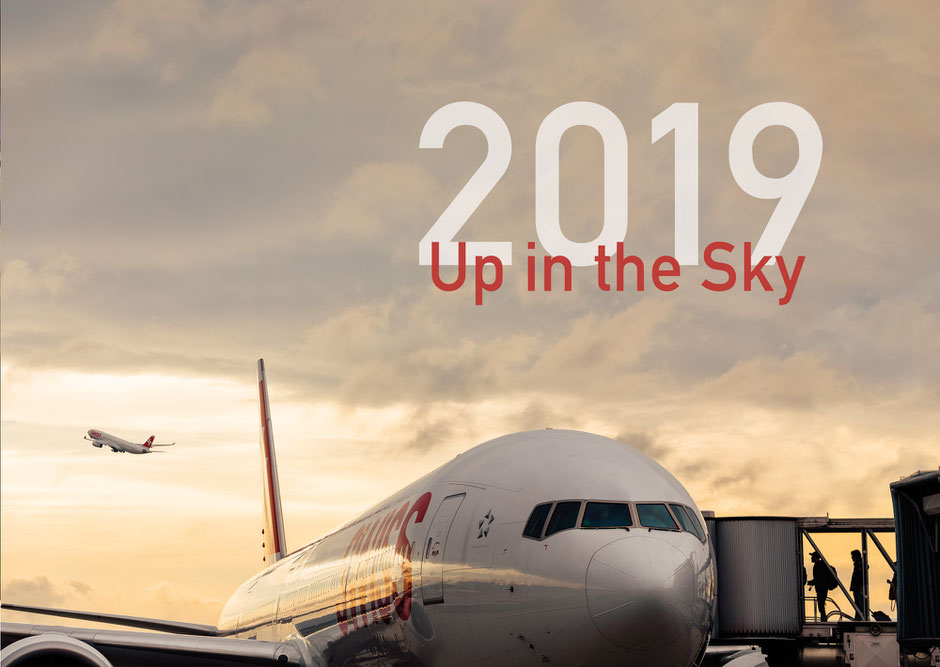 Cover
Welcome on board

This Boeing 777 and its crew are welcoming their guests for a trans-Atlantic journey to Miami, just as their colleagues on board an Airbus 330 are climbing into a beautiful, but cold winter's sky above Zurich Airport.
January
Late Night departure

As we are climbing into the night sky above Hong Kong, a wide left turn offers us a wonderful overview of the bustling metropolis and its glowing city lights. A few minutes ago we took-off from runway 07R at HKG Intl. Airport and the crew of LX139 and its 343 passengers are settling in for a 12 hours journey to Switzerland.
February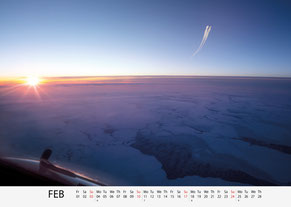 Icy Sunrise

A beautiful sunrise greets us somewhere over the vast sea of ice of the Labrador Sea. Just as the first rays of sunlight are piercing through the serene morning sky, we can spot the west coast of Greenland on the horizon and the silhouette of a Boeing 747 and its impressive contrail.
March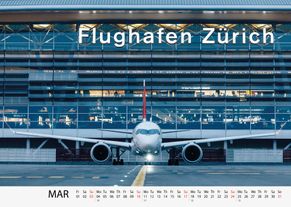 Departing Home

A Bombardier C Series 300 is showing its sleeky silhouette in front of the futuristic Airside Center at Zurich Airport. It has started-up its engines and is about to taxi out to its departure runway. A short hop across the Alps will take LX1612 to Milan and the sunny weather of Northern Italy.
April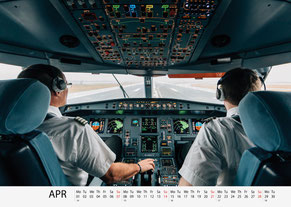 Challenging Weather

Moderate precipitation mixed with gusty crosswinds offered a challenging approach for this Airbus 330 flight crew. After a smooth touchdown, the gnarly weather welcomes us to New York JFK airport. A seven-hour journey across the Atlantic Ocean is about to come to an end.
May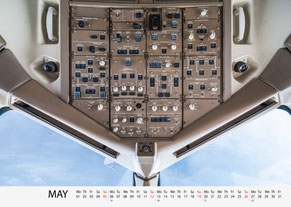 Office Above the Clouds

Flying an airliner takes us to the edge of the atmosphere while flying almost at the speed of sound. To cope with the everyday challenges of our job, it is essential to be fully familiar with the complex, yet very redundant systems. Intensive training and personal effort make us feel home at his office above the clouds.
June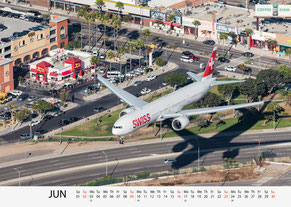 Cleared to Land

A typical American backdrop is welcoming LX40 to California. After an 11-hour long-haul flight halfway around the globe, this B777 is nicely established on final approach at Los Angeles Intl. Airport. All checklists have been completed and the pilots are fully focused to land the heavy airliner on runway 24R.
July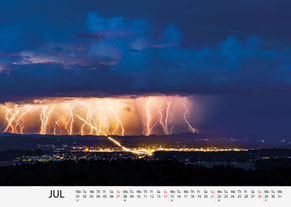 Electric Sky

A hot summer's day is about to come to an end as mother nature is putting up an impressive show. Some intense convective weather is passing to the east of Zurich Airport and its intense lightning activity illuminates the night sky while the late night arrivals for runway 28 are in full swing.
August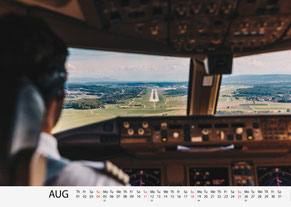 Coming Home
A hot summer's afternoon greets us at Zurich Airport as we are approaching runway 14. Its three runways take us to almost all corners of the world. But, touching down on them also means coming home to the 5'700 crew members at SWISS.
September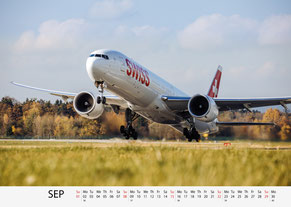 Taking it to the Skies

A powerful scene as the flight crew of this Boeing 777 takes off at Zurich Airport bound for the US west coast. While accelerating down the runway, the wings start to create lift, thus starting to slightly flex under the tremendous forces that are needed to lift the heavy airliner into the autumn skies above Switzerland.
October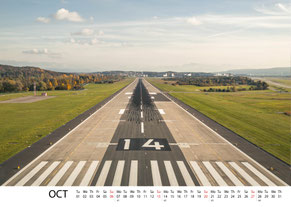 The Pilot's View

All checklists have been completed, the air traffic controller has cleared us to land and the synthetic voice of the radio altimeter started to count down our height above ground. Enjoy the pilots' vantage point as we are fully focused to land at Zurich Airports runway 14.
November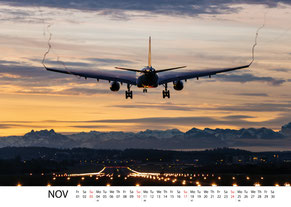 Good Morning, Zurich

A serene morning scenery is framed by the stunning Alps in the background this Airbus 330 is about to land back home. The humid air creates vapour trails and condensation effects along the wings as it is moments from a smooth landing. It will mark the perfect end to a long night flight across the North Atlantic Ocean.
December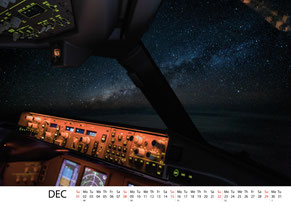 Destination Milky Way

We are soaring through the night sky above Turkmenistan, following the milky way on our easterly course. We have just dimmed the lights on the flight deck to fully enjoy the ocean of stars shining brightly above us. Only occasional radio chatters fill the quiet airwaves as we are bound for Bangkok, Thailand.
Get your copy today

Did you enjoy these impressions from my daily life as an airline pilot? Head over to my shop to get your copy today.