Take a closer Look
Welcome on board
As an airline pilot, I get to meet a great deal of people, explore cities, and landscapes around the world. One of my constant travel companions is my camera. These photographs in this calendar were taken during my flights this past year. In this manner, I can to invite you to take a seat in the cockpit and experience the world from a pilot's perspective.
I would like to take this opportunity to thank all involved making this project possible. A special appreciation goes out to my fellow pilots, internal departments for their support, and permission to use the images.
All pictures were either taken during the non-sterile phase of the flight, on the ground, or as an observer in the third seat.
Because we care
I am very proud to inform you, that by purchasing this photo calendar you are supporting a cause for good. For every copy sold, I donate CHF 5.- to the children foundation of the SWISS employees (Stiftung Kinderhilfe des SWISS Personals). Visit www.swiss-kinderstiftung.ch for further information. Thank you very much for your support.
This project is produced entirely in Switzerland and promotes an effort for the global climate issue. To be carbon-neutral, all arising CO2 emissions are compensated by donations towards projects of MyClimate. From wood processing to the finished print, the production takes place in accordance with FSC-standards. Therefore, the used paper originates from environmentally-friendly and socially acceptable managed forests.
Lets take a closer look
Read the picture description down below. These are the pictures of my 2018 photo calendar with some very different insights into my daily life as an airline pilot. Head over to my shop to get your copy today. Click here to get to the store>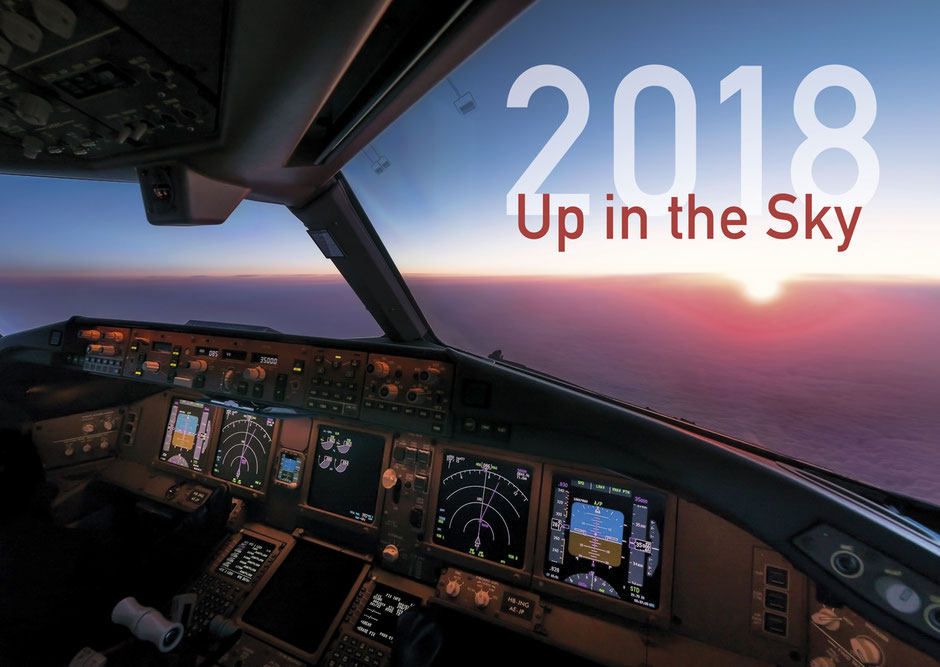 Cover
Transatlantic sunrise
It's the crack of dawn south of Greenland when the first rays of sunlight pierces through the misty morning sky. We are flying into another warm and beautiful summer's day.
January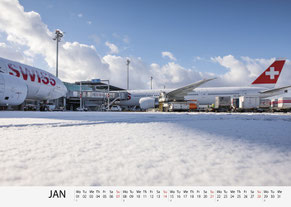 Winter you look beautiful
Some intense snowfall has covered the airport with a thin layer of powder and keeps the ground crews busy; clearing the runways, taxiways as well as de-icing the mid-day departure wave that's in full swing. A beautiful winter scene at Zurich Airport as these two long haul aircrafts are getting ready for their transatlantic journey.
February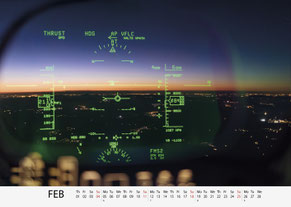 Cutting-edge technology
A calm sunset greets the cockpit crew as they head into the approach at Zurich Airport. The head-up display on the flight deck of the Bombardier C Series offers its pilots a better overview on the important flight parameters while keeping a good lookout.
March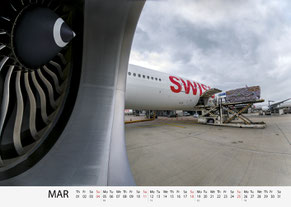 Taking a closer look
I am inspecting the starboard engine of our Boeing 777 before departure. These two marvels of technology will soon take us into the sky on our long journey across the Atlantic Ocean. The massive GE-90-115B engine is the most powerful jet engine in the world and boast a 3.2m diameter which could fit the fuselage of an A320.
April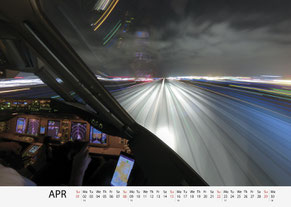 Accelerating down the runway
We are fully focused as we are thundering down 25R at LAX. A Boeing 777-300ER can weigh up to 351t at take-off. Today, it takes us about one minute, 2.5km of runway, and speed of approximately 300km/h to lift this aircraft into the air.
May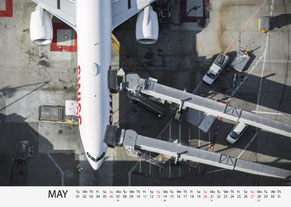 Feeding the bird
LX39 is getting ready for its long journey back to Switzerland. The ground crew at San Francisco International Airport is busy loading cargo, baggage, and catering. Soon it will lift-off into the evening skies of California carrying 340 passengers, 17 crew members, and 20 tones of cargo.
June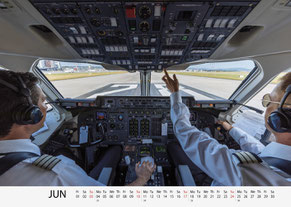 Ready for departure
It's one of the last days of the Avro RJ100 at SWISS before its retirement. The pilots are concentrating on the upcoming flight phase as the air traffic controller clears the morning flight to Milan Malpensa for take-off: "SWISS 612Q, winds calm, runway 28 you are cleared for take-off".
July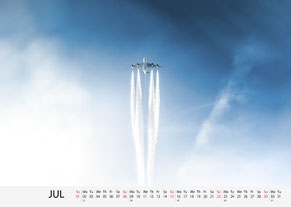 Encounter in the sky
We are flying along the airways above Georgia when we spotted this Airbus A380 painting an impressive contrail. They appear at high altitude when water vapors in the exhaust of the engines mixes with the surrounding cold air.
August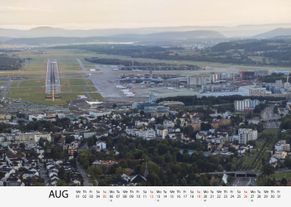 Home sweet home
A serene summer's morning greets us at Zurich Airport as we are approaching runway 34. Its three runways take us to all corners of the world. But, touching down on them also means coming home to the 5'700 crew members at SWISS.
September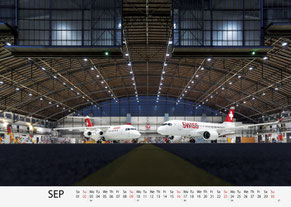 Old meets new
Its been a year now since the last Jumbolino left our fleet. While preparing for its retirement, he met with its successor, the Bombardier C Series. After the lights of this hangar at Zurich Airport went out and all the people had left, they might had a little midnight chat about flying.
October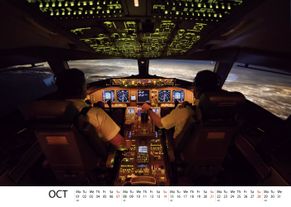 An office with a view
A sea of lights as far as the eyes can see; it is the sprawling metropolis of Los Angeles passing us by. Soon, these lights will fade away and we will be engulfed by the night sky until the sun rises over the horizon. To me, this is by far the greatest office window one can get, bested only by Astronauts.
November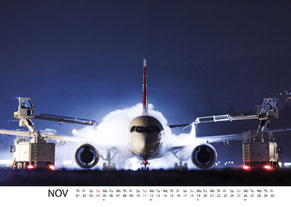 Winter is coming
This CS-100 is treated on Pad Charlie at Zurich Airport. It's this time of the year again when cold air and precipitation covers it with a thin layer of frost. To get the aircraft clean and ready for flight, the ground crew either applies a one- or two-step procedure. This depends on the weather conditions and deposits on the airplane's surfaces.
December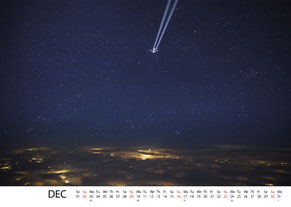 Flying home for Christmas
An ocean of stars is shining bright above us during our long journey home from Singapore. Only occasional radio chatters fill the quiet airwaves of this silent winter night over eastern Turkey. It's good to be flying along side our colleagues in their Airbus 330; flight LX147 from Mumbai.